A picture, a quote.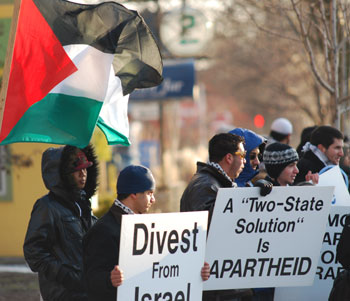 Boycotting Israeli products, proclaiming that the only peace solution on table is a form of racism. Ann Arbor antisemite Arab - stay classic.
A quote:
The observer's question: "Do you acknowledge violence everywhere, or only by Israel?" The observer said that he'd not seen similar demonstrations and vigils on behalf of people in China or Darfur, and said that it seemed to him that the protest was not motivated by a desire for peace so much as by anti-Israeli sentiment. Chuck responded by inviting the observer to organize demonstrations on behalf of whoever he liked
A source:
Ann Arbor Chronicle:
Demonstrators Protest Gaza Violence
The temperature 'round here is FREEZING cold. If one want to hang outside with a bunch of hateful signs - he is revealing a lot about himself.
Crazy - just like, if not the same guys, who
yelled Murderers at my young daughters
two years ago. And again last year (although I didn't post about them).
Another source, another quote: mlive.com:
Local demonstrators turn out to protest Israel's assault on Gaza
A large group of people gathered in front of the federal building in downtown Ann Arbor on Friday afternoon to protest action by the Israeli military in Gaza.

Carrying signs that read, "Smash Israel Apartheid,'' "Reject Zionism'' and "Stop the Massacre in Gaza,'' about 150 chanted and walked up Liberty Street towards campus before swinging back down State and Washington streets.

The group started with some 35 people at 3 p.m. but grew rapidly and shortly before 4 p.m. began walking east. Protesters were met with honks of support from passing vehicles.
In other news, I hate Ann Arbor.