Today, Israel retaliated to sniper and mortar fire from UN offices and compound in Gaza, the heads of UN officials exploded with hypocrisy as they condemned the retaliatory fire - not the fire from their own facilities, or the fire by their employees - the terrorists - against Israeli schools and hospitals over the last 8 years and in particular over the last 2 weeks:
JPost:

IDF: Shelling of UNRWA building response to anti-tank fire
various sources:
UN expresses outrage over Israeli strike on its Gaza headquarters
Here's CNN headline of Gaza for today:
U.N. aid storehouse on fire in Gaza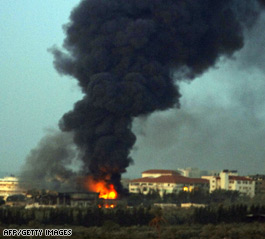 Here's Fox-News:
U.N. Agency That Runs School Hit in Gaza Employed Hamas and Islamic Jihad Members
The United Nations agency that administers a school in Gaza where dozens of civilians were killed by Israeli mortar fire last week has admitted to employing terrorists to work at its Palestinian schools in the past, has no system in place to keep members of Hamas or Islamic Jihad off its payroll, and provides textbooks to children that contain hate speech and other incendiary information.

A growing chorus of critics has taken aim at the United Nations Relief and Works Agency (UNRWA) in recent years, although momentum on Capitol Hill has been slow. But last week's incident, which Israel maintains was prompted by Hamas operatives firing mortars at Israelis from a location near the school, has prompted some lawmakers to scrutinize the U.N. agency.
I'd like to thank fox-news here, for being the only remaining honest news provider in this country. It's no longer about "fair and balanced", it's no longer about the rest of the media being too pandering to the left and too critical of the right - it's about telling the news. CNN is an ongoing embarrassment to the profession of journalism.
P.S. Now CNN is promoting the "Israel accused of using white phosphorus" on their front page!
For more background on this lie, just flip to my post about it from yesterday.