This story keeps getting better and better - and it paints Obama the candidate from 2008 as a hypocrite liar.
I'm thankful today that Obama the president is the opposite from Obama the lying candidate, and for him doing what Clinton didn't. Authorize the killing of the arch-terrorist.
Intel From GITMO Detainee/Detainees Interrogations Led CIA To Osama bin-Laden
(Fox news video, at Jawa Report)
From JammieWearingFool:
Info From Club Gitmo Detainees Eventually Led to bin Laden Killing
For all the caterwauling over the years about "harsh" interrogation techniques at Guantanamo Bay, it must pain the New York Times to acknowledge that information obtained there eventually led us to Osama bin Laden.Detainees at the prison at Guantánamo Bay, Cuba, had given the courier's pseudonym to American interrogators and said that the man was a protégé of Khalid Shaikh Mohammed, the confessed ...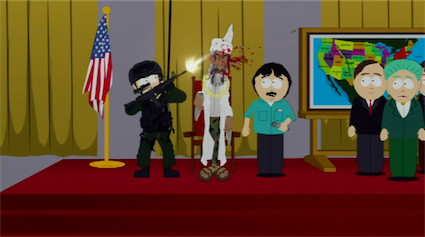 Eat pork, ModaFocka!