In Hebrew, the phrase to describe Erdogan's behavior is "The urine got to his head". He is imagining himself some kind of world power bullying its way in every diplomatic arena. Will sissified EU cave?
Turkey is begging to be set right by pretty much everyone.
Turkey to freeze EU ties if Cyprus gets EU presidency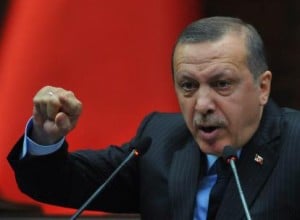 EU-candidate Turkey will freeze relations with the European Union if Cyprus is given the EU presidency in 2012, Deputy Prime Minister Besir Atalay was quoted as saying by the state-run news agency Anatolian late on Saturday.
I wonder if this too, Erdogan would accuse as a Zionist conspiracy.