This is what he said: 'Don't let skeptics, fear derail Mideast peace'
This is what it means: 'Don't let reality, blood, terror derail march to terrorist Arab Palestinian state'
No - Thanks, lives are worth far more than dreams based on false premise. Peace isn't the goal stated by Arabs. It's the 'process'.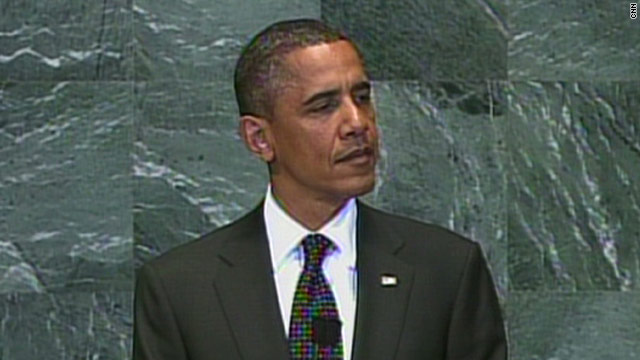 CNN:
Obama: Don't let skeptics, fear derail Mideast peace
President Obama says critics and skeptics to Mideast peace between Israelis and Palestinians should "consider the alternative," according to excerpts released in advance of his United Nations speech planned for Thursday.

"If an agreement is not reached, Palestinians will never know the pride and dignity that comes with their own state. Israelis will never know the certainty and security that comes with sovereign and stable neighbors who are committed to co-existence," he said. "The hard realities of demography will take hold. More blood will be shed.

"This Holy Land will remain a symbol of our differences, instead of our common humanity," he said.

According to his prepared text, Obama said although peace must be made by Israelis and Palestinians, other countries have a responsibility as well.
The alternative is a strong military keeping Israeli civilians safe from terrorist? I pick option 'keep people alive'.
"Those of us who are friends of Israel must understand that true security for the Jewish state requires an independent Palestine -- one that allows the Palestinians people to live with dignity and opportunity," Obama said. "And those of us who are friends of the Palestinians must understand that the rights of the Palestinian people will be won only through peaceful means -- including genuine reconciliation with a secure Israel."
'True security' requires terror sponsoring entity carved out of historic Jewish land and confiscating holy sites? What True Security?! Who is fooled by this gobility gook?