Col Terry Lee on phone with Fox News: He expressed pro terrorists opinions before and against US war in Iraq. He was happy about prior attacks on US troops. Why was he not fired and investigated before?!
First blame is on the murderer himself: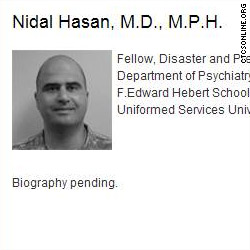 (image from CNN)
Twelve Dead in Fort Hood Shootings
A U.S. Army major opened fire on fellow soldiers Thursday in the heart of the giant Fort Hood Army base in central Texas, killing 11 people and wounding at least 31 in one of the worst incidents of soldier-on-soldier violence in military history.

The officer, Maj. Malik Nadal Hasan, was later shot and killed by security personnel on the base, which is about 160 miles southwest of Dallas.

Two other soldiers were in custody, base officials said, amid indications that the attack may have been premeditated and well-organized.

Military officials said that Maj. Hasan was a psychiatrist who had been recently promoted to major and transferred to Fort Hood from Washington's Walter Reed Medical Center. Maj. Hasan's professional specialties included post-traumatic stress disorder, combat stress and other emotional issues common to the troops implicated in earlier incidents of military fratricide.

A defense official said that there "were some signs that this might be an Akbar-type event," a reference to a bloody incident in early 2003 when Army Sgt. Hasan Akbar threw grenades into tents occupied by fellow members of the 101st Airborne Division.

Two officers were killed in the 2003 attack in Kuwait, which wounded 14 others. Military prosecutors said that Sgt. Akbar, who was ultimately sentenced to death, was motivated by anger at the deaths of Iraqi civilians at the hands of U.S. troops.