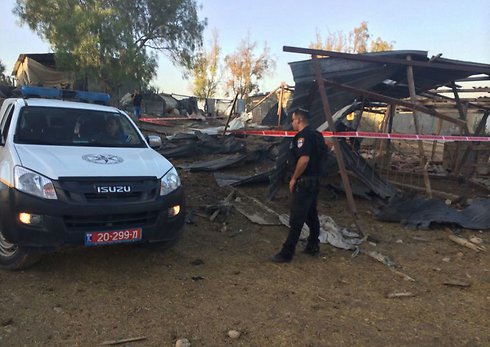 Damage caused by Hamas rocket today which severely injured two sisters of ages 10 and 13. The girls are Israeli Arab Beduim
On the day the war began - I booked the ticket, not knowing what's coming, but following my business schedule. So I won't pat my back for some bravery or patriotism. Like most reasonable human beings, I hope for two contradictory things:
1. For stability, calm and security to return as soon as possible.
2. For the terrorist to be eliminated and removed once and for all.
Can you hear me sigh?
More contradictions I'm thinking of:
1. Only a ground offensive - carried to the end and killing/incarceration all terrorists will prevent the next eminent round of rocket terror.
2. The human cost of life in both sides is such a great risk - that one yearns for other turn of events to occur.
Well - that's what's on my mind, that and endless stalking news feeds, where if I find something worth noting, I bookmark it on twitter. Here are latest headlines I collected from Twitter:
* Egyptian Media Calls for Destruction of Hamas –
Obama Makes Them Peace Partners
* Two
young girls
Injured From Rocket Fire in Beer Sheva
* Hamas spox: 'We are leading our people to death'… er, confrontation…
yeah, that's it
* Palestinian UN rep says every missile fired from Gaza at Israel is 'a
crime against humanity
' * Hamas drone shot down over Ashdod was
laden with explosives
*
No Call From Islamic Leaders
For Hamas to Stop Attacking Israel
* Hamas' message is
a bit different
in English and Arabic
* Don't believe the hype:
Hamas isn't desperate for a truce
*
Video
: Muslims firebomb Paris Synagogue in anti-Jewish attack
* The Arab attacks on the light rail in Jerusalem were
not spontaneous
*
Egyptian
TV Hosts 'Sick and Tired' of Hamas
*
German police megaphone used in anti-Israel rant
* Christie calls for 'forceful' defense of Israel, says
Obama not 'decisive'
* Statement by the
Prime Minister of Canada
in response to the situation in Israel
* Opinion (not "The Onion"): Israel crisis:
Obama's obscene moral relativism
*
Rick Steves
, travels to anti-semitism-ville, dines well
*
Pallywood & The Left