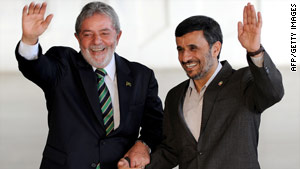 We should personally thank
Brazil, Argentina, and Uruguay
for letting us know what the Arabs are contemplating now. Self proclaim statehood and restart their attempts to kill Jews. It's like playing chess with an ADD violent child. He keeps losing, he keeps banging his head against the wall.
Some Arab site: "http://english.pnn.ps/index.php?option=com_content&task=view&id=9246&Itemid=61"
Fatah: "Great Intifadeh" is Legitimate Right of Palestinians

Ramallah – PNN - A statement released by the Palestinian National Liberation Movement (Fatah) said that the option of organized popular resistance was the legitimate right of the Palestinian people and that the lessons learned from last "great intifadeh" will guide people against the Israeli occupation and settlements.

The statement commemorated the 23rd anniversary of the beginning of the First Intifadeh in 1987 and the building of national institutions to protect Palestinian national rights. Fatah considers the First Intifadeh a success in bringing the Palestinian issue to the forefront of international concern.

Palestinians should be credited, according to the statement, with bringing the word "intifadeh" into the "the lexicon of humanity."

The announcement comes on the heels of international recognition by Brazil and Argentina of an independent Palestinian state on the 1967 borders.
It's all connected.